MONTERCHI FESTIVAL 2018
All the summer program with the Monterchi Festival from June 21st to August 2nd every Tuesday and Thursday in Piazza Umberto I and to the gardens of the Madonna del Parto Civic Museum
PROGRAM
Giovedì 21 Giugno, ore 21.15  - Piazza Umberto I
Serata Inaugurale
Solstizio d'estate, Festa Europea della Musica
Jazz in Piazza
Enrico Pieranunzi e il suo pianoforte
My Songbook con la voce di Simona Severini
-----------------------------------
Martedì 26 Giugno, ore 21.15 - Piazza Umberto I
Lo chansonnier VITTORIO PERLA, Bonsoir Everybody
Mariangela Testa, violino
Alessandro Guadagni, tromba
Jacopo Puletti, chiatarra
------------------------------------
Giovedì 28 Giugno, ore 21.15 - Piazza Umberto I
La pianista JOYCE CLARKE, Giovani compositori Romantici
In programma musiche di Chopin, Granados,Rachmaninoff
--------------------------------------
Martedì 3 Luglio, ore 21.15 - Giardino Musei Civici Madonna del Parto
Scrivere e leggere
PAOLO D'ANNA, L'odore della notte
Un libro, uno spettacolo, omaggio a Pier Paolo Pasolini
---------------------------------------
Giovedì 5 Luglio, ore 21.15 - Piazza Umberto I
Jazz in Piazza
PIEVE JAZZ BIG BAND, Note sotte le stelle
Direttore, Fulvio Farreli
-----------------------------------------
Martedì 10 Luglio, ore 21.15 - Giardino Musei Civici Madonna del Parto
Scrivere e leggere
BRUNELLA SCHISA, e il suo nuovo romanzo storico La Nemica
-------------------------------------------
Giovedì 12 Luglio, ore 21.15 - Piazza Umberto I
QUINTETTO SONORO, da Bucarest alla terra di Piero della Francesca
Max Baillie, violino
Silvia Mazzon, violino
Razvan Popovici, viola
Valentin Radutiu, viololcello
Diana Ketler, pianoforte
In programma musiche di Beethoven, Enescu, Dvorak
-------------------------------------------
Martedì 17 Luglio, ore 21.15 - Giardino Musei Civici Madonna del Parto
Scrivere e leggere
CINZIA TANI, e il suo nuovo romanzo storico Figli del segreto
--------------------------------------------
Giovedì 19 Luglio, ore 21.15 - Piazza Umberto I
Jazz in Piazza
NATIA QUARTET, I Colori dell'Anima
Mauro Carboni, flauto e sassofoni
Massimo Pucciarini, pianoforte
Luca Grassi, contrabbasso e basso elettrico
Mauro Giorgieschi, batteria
--------------------------------------------
Martedì 24 Luglio, ore 21.15 - Giardino Musei Civici Madonna del Parto
Scrivere e leggere
IL FIUME DEL TEMPO, Parole e musica nell'alveo della vita
Beckett, Carrieri,Cucchi,Cvetateva,Jimenez,Kafka, Landolfi,Lee Masters,
Marzocchi,Montale,Neruda, Pavese,Soavi,Tondini
Con le voci di
Giannina Raspini
Antonio De Robertis
Andrea Franceschetti
e con la chitarra di Girolamo Sansosti
--------------------------------------------
Giovedì 26 Luglio, ore 21.15  - Piazza Umberto I
Jazz in Piazza
MARCO MARCONI e il suo pianoforte
Tributo a George Gershwin e Cole Porter
--------------------------------------------
Martedì 31 Luglio, ore 21.15 - Piazza Umberto I
Il mezzosoprano MANUELA BONI con Antonio De Robertis
Boulevard des Capucines nella Parigi bohemienne,
Sarah Bernhardt, Felix Nadar e la passione per la fotografia
Carlo Alberto Neri, pianoforte
Composizioni di Massenet,Verdi,Saint Saens,Debussy,Satie
-----------------------------------------------
Giovedì 2 Agosto, ore 21.15 - Piazza Umberto I
Jazz in Piazza
WALTER LIGI E L'IPOTETICO TRIO
Acquerelli
con la voce di Sara Lombardi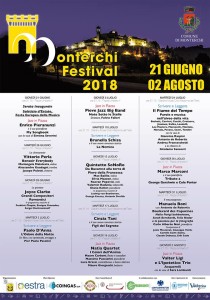 Poster Monterchi festival 2018
---
INTERNATIONAL WOMEN'S DAY 2018
March 8th 2018, from 9.30 am to 5 pm
March 8th is an excellent opportunity to visit our renovated museum setup.
Since four years, on the occasion of the International Women's Day, the municipality of Monterchi supports this important cultural moment, reserving free access to all women, throughout the day.
It's possible to book for a guided tour
at 3.30 pm, max 40 people.
Call us at  +39 057570713
or write to us at info@madonnadelparto.it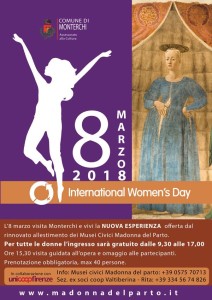 Click on the image to enlarge it
MONTERCHI FESTIVAL 2017
---
June 20th - August 10th
50 days, 19 events, 60 artists, 2 fantastic locations, 9 evenings for a free visit to our museum!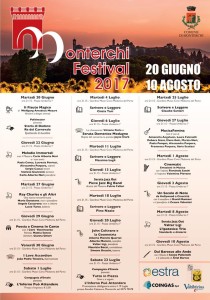 Click on the poster to enlarge it
Keep you posted with the official Facebook Page of Monterchi Festival!
PAOLO GUBINELLI – CONTEMPORARY ART EXHIBITION – TRIBUTE TO PIERO DELLA FRANCESCA – FROM 25/07 TO 18/10 MADONNA DEL PARTO MUSEUM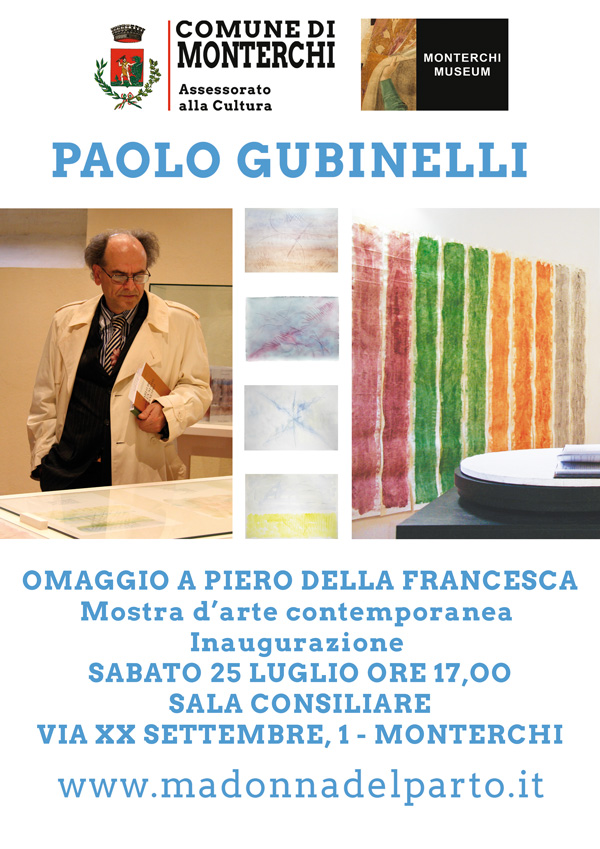 Terre di Piero - IN THE STEPS OF TRAVELLING MASTER
A project that links Toscana, Emilia Romagna, Marche e Umbria


This is an invitation to the voyage. In the steps of Piero Della Francesca
RIMINI, URBINO, SANSEPOLCRO, MONTERCHI, AREZZO, PERUGIA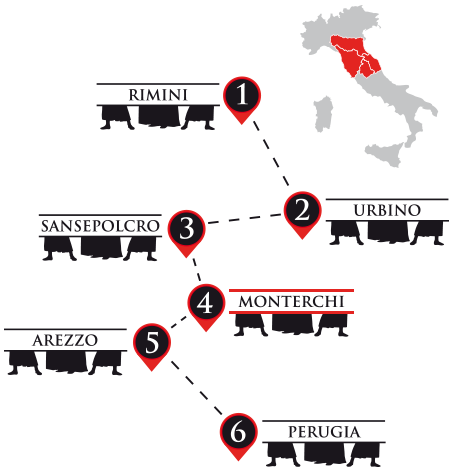 Humanist painter, Renaissance intellectual, master of light, symbols and perspective.
Across a changing landscape of isolated churches, medieval towns and gentle slopes that Piero admired and immortalized during his pilgrimages in central Italy.
Inside Malatesta's, Medici's and Montefeltro's palaces, which once hosted him and still guard his masterpieces, untouched by the passing of time.
An opportunity to discover a breathtaking itinerary made of art, territory, history, culture and traditions.